Whether it's high-performance composites, aluminum, wood, steel tube or fabric, GUT Works has the experience and resources to repair or make modifications to your aircraft. We can help with:
Service Bulletin/Airworthiness Directive compliance
Airframe modification, repair and maintenance
Instrumentation upgrades
Engine overhauls
With our central location, our large facility located on the Lawrence, KS airport, and our expert staff, GUT Works is an easy choice for a wide range of repairs and alterations. We also have an FAA DAR on our staff to greatly streamline the process of airworthiness certification.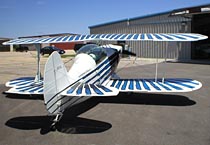 Christen Eagle II Rebuild
Photos of our extensive revitalization of
an aircraft needing some expert TLC